Reducing the Risk of Uterine Fibroids
Fibroids are non-cancerous growths in the wall of the uterus. About 70- 80% of women develop fibroids by age 50. Uterine fibroids cause problems including heavy vaginal bleeding, pelvic pain, urinary and bowel symptoms, lower back pain, and complications during pregnancy and labor, and are commonly lead to hysterectomies. Certain hormones may inhibit and even reverse the fibroid growth process. Also, studies have shown that women with fibroids were significantly more likely to have low vitamin D levels. Given the broad benefits of vitamin D, it seems reasonable for women to make sure they are getting enough vitamin D to ensure optimal blood levels. Ask our pharmacist about hormone therapy and to recommend the best vitamin D3 supplement and dose for you.
Ask our compounding pharmacist for more information about customized treatments for infertility and hormone-related problems.
Hormone Therapy After Hysterectomy
Should a woman who has had a hysterectomy take only estrogen, or also progesterone? Many health professionals assume the hormone progesterone is prescribed only to protect the uterus. But there are progesterone receptors throughout the whole body, and like every other human hormone, progesterone has far-reaching effects. Low progesterone levels may lead to chronic fatigue, depression, anxiety, brain fog, insomnia, hot flashes, inability to lose weight, dry skin, thinning hair, bone loss, PMS, fibroids or migraines. Progesterone is known to relieve these problems, and in some cases can benefit men, too. Read more from Suzy Cohen, RPh http://bit.ly/Xsf5Zh and ask us how we can help you start feeling better today!
Ask our compounding pharmacist for more information about our solutions for Natural Hormone Replacement Therapy
Oxytocin – Improvement of Social Interactions
Oxytocin is a hormone used to stimulate contractions of the uterus during labor, control bleeding following delivery, and to stimulate the secretion of breast milk. In the human body, oxytocin release is increased by touch, or a hug or kiss. It has been recognized that oxytocin has the ability to modify human social behavior. Research has shown that oxytocin can enhance intricate social activities including pair bonding, sexual activity, affiliative preferences, and parental behaviors, and may even help children with autism. Oxytocin induces a general sense of well-being including calm, improved social interactions, increased trust, and reduced fear. Therefore, oxytocin is of potential use in enhancing interpersonal and individual well-being, and neuropsychiatric disorders characterized by persistent fear, repetitive behavior, reduced trust and avoidance of social interactions. Ask our compounding pharmacist for more information about oxytocin sublingual tablets and nasal spray
Treatment for Refractory Epilepsy in Dogs and Cats
Some cats and dogs with epilepsy become less responsive to therapy over time and require a change in medication. One drug which is often chosen is zonisamide. Zonisamide can be dosed twice daily in dogs and once daily in cats. Zonisamide has few side effects, but sedation, dizziness, and vomiting have been reported and resolve over time. If cats experience lack of appetite, zonisamide is usually discontinued. Zonisamide has the potential to cause dry eye in dogs and it may also cause problems with a dog's liver, so hepatic enzymes must be monitored. Zonisamide should not be used in pregnant animals. Many veterinary clinicians request compounding pharmacists to prepare flavored oral suspensions of zonisamide to more accurately titrate anti-epileptic therapy and to improve compliance through improved taste.
If you need to regularly medicate your pets, call our compounding pharmacy at (630) 355-6400 about customizing their meds as flavored chewies or other dosage forms that your pets will love.
Does your Dog suffer from Painful Joints?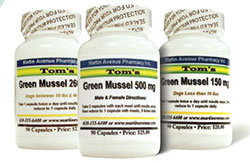 Tom's Green Mussel
Tom's Green Mussel is found to have beneficial effects in relieving the pain, inflammation, and symptoms associated with connective tissue and degenerate joint disorders in your dog.
Order online.
150 mg - for dogs less than 10 lbs - Price: $20.00 ORDER
260 mg - for dogs between 10-40 lbs - Price: $22.00 ORDER
500 mg - for dogs over 40 lbs - Price: $25.00 ORDER
Size: 90 capsules. Directions:Take 1 capsule twice a day until results occur, then reduce to 1 capsule daily. Warnings: Keep out of the reach of children. Do not take by mouth or apply near eyes.

Visit us on Facebook